The Society for Nanlaoshu was founded in 1987 under the inspiration and guidance of Master Ham King Koo (1902-1999). He devoted his life to acquiring and sharing his knowledge of these once-secret internal cultivation techniques. The Society for Nanlaoshu is dedicated to preserving and sharing this ancient longevity practice and the compassionate spirit with which we were taught.
As a 501(c)3 organization, we rely on the generosity of our Board members and teachers, who donate their time and effort to sustain our Society.
With a unified vision of preserving this precious healing art, the teachers, Board and students create a strong sense of community. In addition to regular classes, we come together periodically to share in meaningful ways our experiences and reflections of the practice. We offer weekend retreats, day-long workshops and host special events and parties.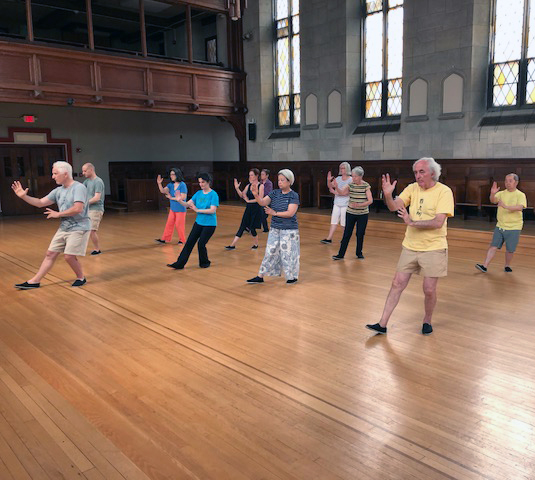 Comments from our students:
"What makes this a special place to belong to?  More than an association of taijiquan practitioners it is a community of dedicated and good-hearted people. I think the best community balances the needs of the many and the one; doing so mutually strengthens both.
Students have different learning curves, physical strengths and weaknesses, levels of experience in taijiquan, and disciplines around practicing outside of class…There is generosity in conveying knowledge and experience.  And there is a gentle persistence in adhering to the teachings of Master Koo in form and spirit.
Although I did not know Master Koo, I feel his presence through the diligence of the teachers, who learned directly from him and who are honoring and renewing his legacy. I couldn't be more grateful to have joined a taijiquan community with heart."
---
"The real deal. If you are looking for true traditional tai chi and qi gong this is the place. The teachers are excellent and you will get healthier every year you practice this."
---
"Taiji has been a part of our lives for the last 7 years. We couldn't imagine life without it now. Our balance and strength have improved, not to mention our tennis swing. We've learned to appreciate stillness and attuning ourselves to our breath. We appreciate what it means to be rooted and look at trees a little differently now.
To learn taiji is to learn that there is no rush to learn. Practice takes time and it teaches us patience.
Nanlaoshu is one of New York's best-kept secrets. It is a wonderful community of practitioners in a small setting with caring teachers who keep the practice, as they were taught by Master Koo, alive and relevant.
It reminds us of what it means to be human."
Contact Us
We welcome inquiries and are happy to hear from you. If you have questions or would like to be added to our mailing list, please feel free to contact us at info@nanlaoshu.org.
Board of Directors
2023-2024
Mario Censullo, President
Eve Adler
Julie Azuma
Barbara Bordnick
Charlie Brenner, Treasurer
Freddie Bryant
Regina Censullo
Elise Grebe, Vice-President
Tom Grunewald
Sue Hirschl
Leon Kaliski
Yien-Koo King
Amy Koo
Emily Koo
Carol Lin, Vice-President
Judit Revesz
Ruby Shih, Vice-President
Jeff Wolfman, Secretary